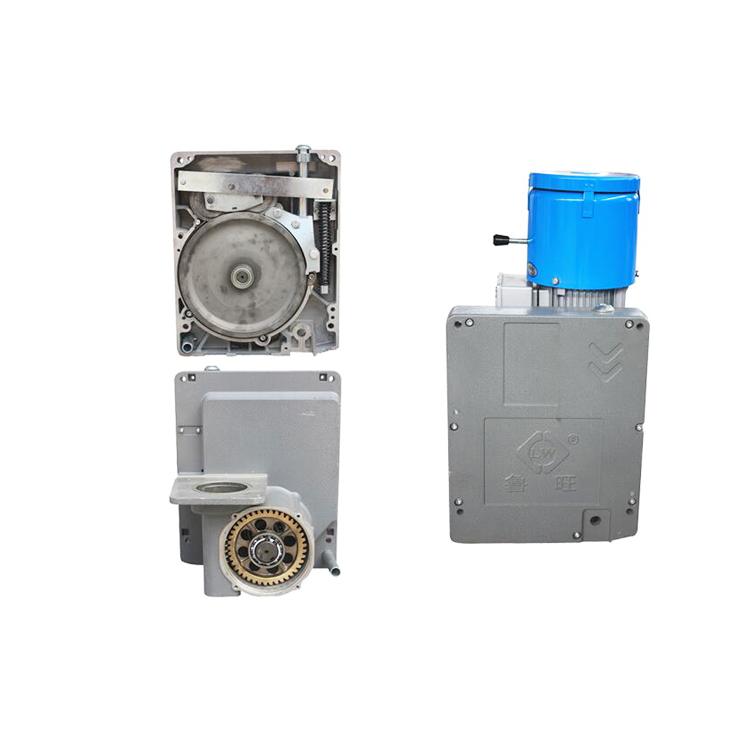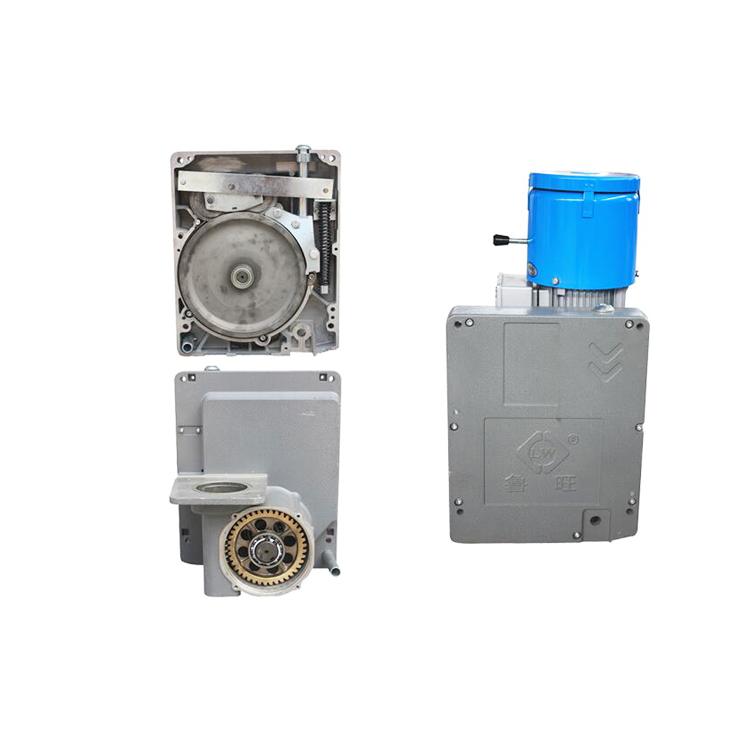 Product Description
---
Rigid endless passenger elevation (man-riding) hoist designed to be used with unlimited rope lengths for lifting and lowering personnel. Capacities range from 500kg to 1000kg at either 9 or 18 m/min.
The Rigid LTD-P Series unlimited cable (wire rope) passenger lifting hoist is the nearest alternative available in the market place to the Tractel Tirak XP Series manriding hoists. The new Rigid LTD-P Series endless hoist is versatile and suitable for unlimited applications.
The rope is not connected which makes it compact, lightweight and very easy to handle. The unrestricted wire rope lengths capability of the Rigid LTD-P Series makes it possible to utilise unlimited lifting heights and traction lengths.
Features and Benefits
---
1.The robust, precisely machined housing of die-cast aluminium, ensures a low dead-weight and outstanding rigidity.
2. Gearing and drive sheave is fabricated from hardened steel.
3. Universal attachment of the winches is capable by means of a central 16mm load pin, or two M10 screws.
4. Motor protection: Protected to IP55 as standard.
5. Standard LTD-P series operating voltage: 380V, 3ph, 50Hz (voltage and frequency are available upon request).
6. Control Voltage: 24V for mobile application units and 42V for the stationary applications models.
7. Phase monitoring: As standard on mobile application models, not available on stationary units.
8. Hoist motor, as standard is fitted with a thermal overload protection device.
9. Certification: Certified by and independent inspection institute (TUV).
10. Drive sheave and pressure rollers of special nitrided steel with a surface hardness of approximately 70 HRC, guaranteeing low wear of these components.
11. The fully-synthetic special oil ensures highest possible efficiency for quiet running characteristics, in a temperature range of -40°C to 70°C.
12. Standardised components ensures easy access to all wearing parts.
The main parameters of LTD-P series hoist
Model
Capacity
(kg)
Lifting speed
(m/min)
Nominal rope diameter
(mm)
Motor
(kW)
Weight
(kg)
LTD50-8P9
500
9
8.3
1.1
46
LTD50-8P18
500
18
8.3
2.0
47
LTD63-8P9
600
9
8.3
1.5
48
LTD63-8P18
600
18
8.3
2.2
49
LTD80-9P9
800
9
9
1.8
50
LTD80-9P18
800
18
9
3.0
53
LTD100-10P9
1000
9
10.2
2.2
51
LTD100-10P18
1000
18
10.2
4.0
62
*Voltage and frequency are available upon request.
Product details
---
Safety for Passenger Elevation In accordance with the requirements of DIN EN1808, each hoist used for passenger elevation must feature a safety system on an independent safety rope. Rigid offers two different safety Fall arrester for two common applications. Both types have been approved for passenger elevation and comply with standard DIN EN 1808 "Safety requirements on suspended access equipment". In addition, fall arrester have been certified by an independent inspection institute (TUV).
Flexible Attachment Points
Attachment points in the corners of the housing are available for flexible attachment of the winch with screws or pins.
Safety Lowering Mechanism
In the event of a power failure, the electric-mechanical brake can be released manually in order to ensure safe and controlled lowering of the load.
Inner mechanism overload
When the load acting on the hoist reaches or exceeds the load limit, the hoist will stop rising or only descend.
Counters
Record to operating hours and number of starts.
Optional
---
• Other operating voltages.
• Double control for several hoists.
• Radio remote control.
• Limit switch for upward travel.
• Counters for operating hours and number of starts.
• fall arrester (over-speed or anti-tilting, required for passenger elevation applications).
• Adaptor for fitting with shackle.
• Ropes for endless hoist and fall arrester.
• Overload cut-out (included in the scope of supply for passenger elevation winches).
Safety Devices
---
Overspeed safety fall arrester (OSL)
The overspeed fall arrester is automatically tripped when the lowering speed of the cable exceeds 30m/min (0.5m/s).
The integrated clamping jaw mechanism made of hardened steel stops the lowering of the wire rope within a few centimetres.
Anti-tilting safety fall arrester (LSF)
The anti-tilting fall arrester is automatically tripped when the angle of the rope or the platform exceeds 5°.
The integrated clamping jaw mechanism holds the rope and immediately stops the movement of the system.
Dimensional Specifications
---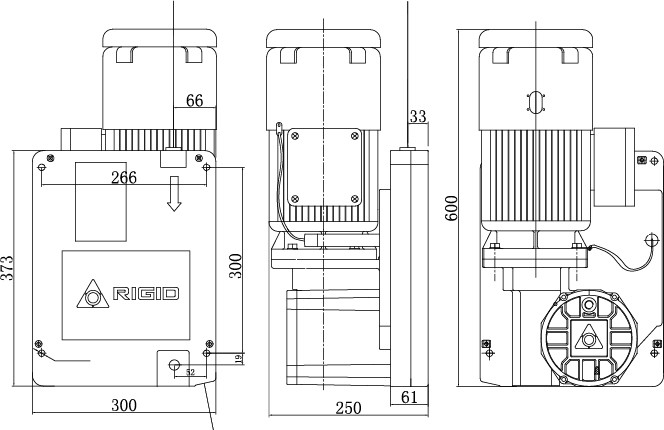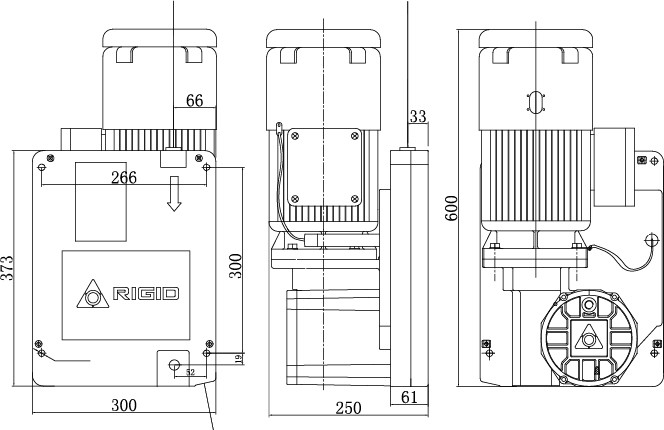 Quick Details
---
Condition: New
Place of Origin: shanghai, China (Mainland)
Brand Name: success
Model Number: LTD-P
Usage:Man-riding
Power Source: Electric
Sling Type: Wire Rope
Maximum Lifting Weight: 1000kg
Maximum Lifting Height: Customer's Request
Lift Speed: 9/18m/min
Certification: CE TUV
Warranty: 1 Year
After-sales Service Provided: Engineers available to service machinery overseas
Product name: Wire rope traction hoist
Voltage: 380V(415V/220V)
Frequency: 50HZ/60HZ
Dia. of wire rope: 8.3mm/9.1mm/10.2mm