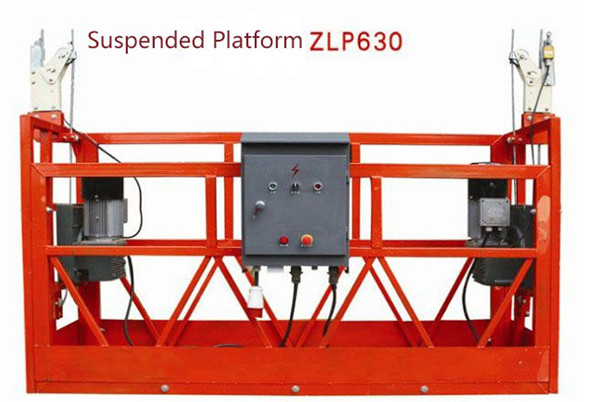 10M Powered Aluminum Rope Suspended Platform ZLP1000 Single Phase 2 * 2.2kw
Descriptions
---
SUCCESS Building Machinery Equipment Co., Ltd. is founded in 2005. It is a leading high-tech enterprise
specialized in research, development and manufacturer of Electrical Suspended Platform, Construction
Material Hoist, Construction Elevator, Tower Crane, Self-propelled Jack Gantry Lift, as well as other various
kinds of construction equipment. We are located in Shandong Gaotang county of China that is a famous
hometown of painting and calligraphy. We can supply strong quality, competitive price, fast delivery and considerate service for all clients. And we can customized for you.
Technical Parameters
---
Model No.
ZLP1000
Rated load(kg)
1000
Lifting speed(m/min)
8~10
Motor power(kw)
2×2.2, 50HZ/60HZ
Brake torque(Km)
16
Steel rope angle adjusting range(°)
3°- 8°
Distance between two steel rope(mm)
≤100
Rated stretch of front beam(mm)
1500
Suspending Platform
Locking
Aluminum alloy
Nr.Of platform rack
Single rack
Nr.Of platform
3
L×W×H(mm)
(2500×3)×690×1180
Weight(kg)
455 Kg
Suspending mechanism(kg)
2×175 Kg
Counterweight(kg) optional
25×44pcs
Diameter of steel rope(mm)
8.6
Max Lifting height(m)
300
Motor rotation speed(r/min)
1420
Voltage(v) 3PHASES/SINGLE PHASE
220V/380V/415V, 50/60Hz (customized)
Main Components
---
1. Platform(basket): Steel or Aluminum Alloy (painted or hot galvanized)
2. Suspension Mechanism: Steel (painted or hot galvanized)
3. Electric hoists:LTD6.3, LTD8.0, LTD10.0
4. Safety Lock: LS30
5. Electric control box: Along with hoists
6. Steel wire rope: 8.3mm ,8.6mm or 9.1mm
7. Safety rope: 18mm,20mm
8. Electric cable: 3*2.5+2*1.5
9. Counterweights: Cement, cement with steel cover & Iron casting counterweight
10. Wheels both under suspension mechanism & platform available;
11. Platform: We can meet your requirements on different length, such as 2m,3m,4m,6m,7.5m….12m
maximum.
12. Lifting height: 300m maximum.
Competitive advantages
---
1. Absolutely guarantee life safety during Aerial working
Safety lock fasten the steel rope immediately once the suspended platform tilts or the steel rope slips out of the hoist; Electric control system is designed with leakage protection, over-heat protection, current overload protection and brake stop;Good-quality steel wire rope, safety rope and cable.
2. Stable performance: raise up and lower down smoothly
3. Modular design. Easy to disassemble, assemble operate and maintain.
4. Lifting height can be adjusted according to requirement (Maximum 300 Meters)
5. Working voltage and frequency can be adjusted (220V/380V/415V etc.)
6. Suspended platform for special usage can be customized (circular, L shape, U shape, etc)
7. Professional quality, competitive price, fast delivery, good services.
Detailed Product Description
---
Rated Load: 1000kg
Size: 7500 X 690 X 1300mm
Color: Silver
Hoist Power: 2 X 2.2kw
Front Beam Overhang: 1.3 – 1.7 M
Counter Weight: Concrete, Concrete With Steel Cover, Iron-casting