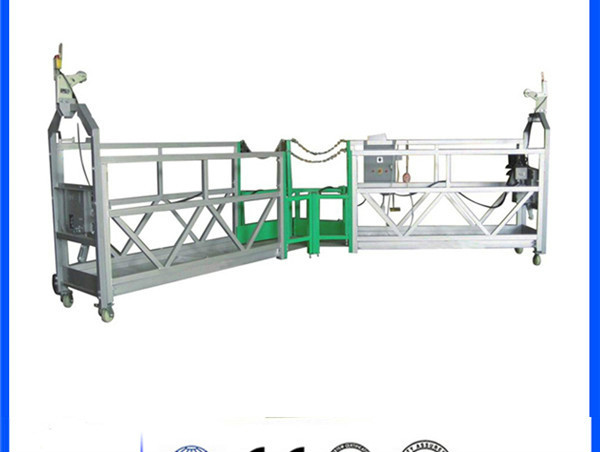 Product Description
---
Suspended platform is mainly composed by suspension mechanism,hoist,safety lock,electric control box,working platform.Its structure is reasonable and easy to operate.It can be assembly and disassembly accroding to the actual needs.The suspended platform is mainly used for refurbishment,decoration,cleaning and maintenance of high construction building.
Name
Technical parameter

Model

ZLP500

ZLP630

ZLP800

ZLP1000

Rated load

500Kg

630Kg

800Kg

1000Kg

Lifting speed

9-11m/min

9-11m/min

8-10m/min

8-10m/min

Platform Dimension L×W×H(mm)

(2.5m*2)*0.69m*1.18m

(2m*3)*0.69m*1.18m

(2.0m*3)*0.69m*1.18m

(2.5m*3)*0.69m*1.18m

Lifting Height

100 m/328ft

100 m/328ft

100 m/328ft

100 m/328ft

Cable

100 m/328ft

100 m/328ft

100 m/328ft

100 m/328ft

Steel rope

dia8.3mm     4*31SW+FC-8.3

dia8.3mm     4*31SW+FC-8.3

dia8.3/8.6mm 4*31SW+FC-8.3/8.6

dia8.3/8.6mm 4*31SW+FC-8.3/8.6

Hoist

Power

1.5KW

1.5KW

1.8KW

2.2KW

 

Voltage(A)

380V/50HZ/3PHASE

380V/50HZ/3PHASE

380V/50HZ/3PHASE

380V/50HZ/3PHASE

Voltage(B)

220V/50HZ/1PHASE

220V/50HZ/1PHASE

220V/50HZ/1PHASE

220V/50HZ/1PHASE

Safety lock

Permission force of impact

LSB30:30KN/LSD20:20KN

LSB30:30KN/LSD20:20KN

LSB30:30KN/LSD20:20KN

LSB30:30KN/LSD20:20KN

Locking Cable Angle

3°~8°

3°~8°

3°~8°

3°~8°

Suspension mechanism

Front beam overhang

1.15-1.7m/3.8-5.6ft

1.15-1.7m/3.8-5.6ft

1.15-1.7m/3.8-5.6ft

1.15-1.7m/3.8-5.6ft

Counterweight

800kg

900kg

1000kg

1000kg

Working height

0-200m/0-656ft

0-200m/0-656ft

0-200m/0-656ft

0-200m/0-656ft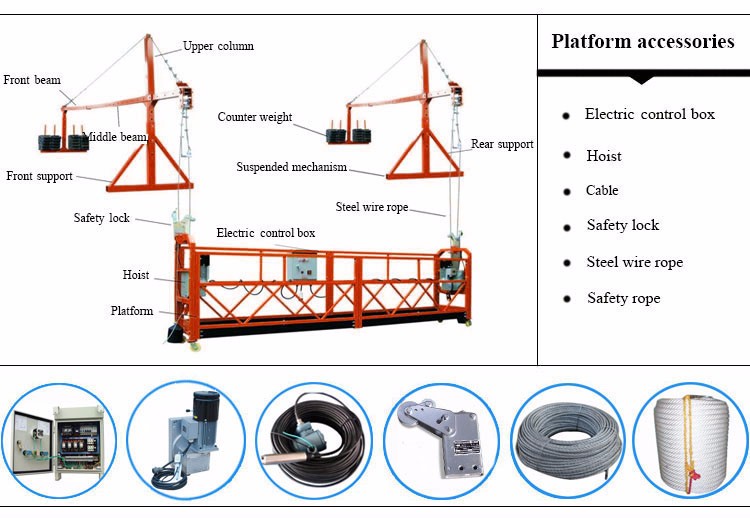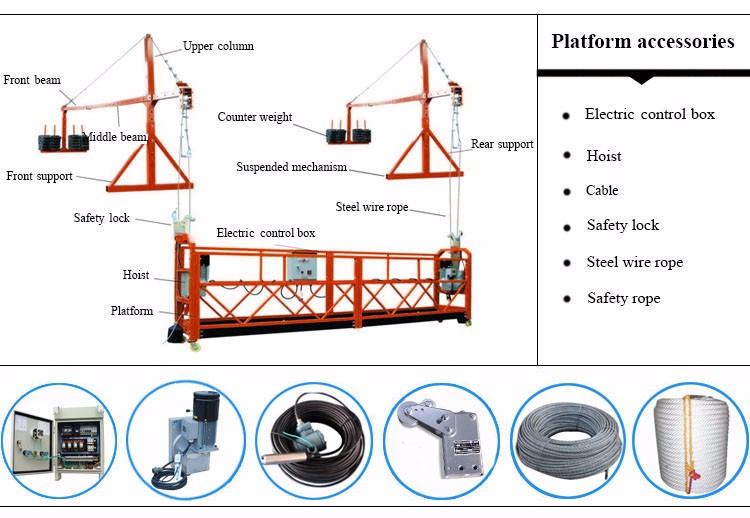 1) Platform System products including : Aluminum Suspended Platforms,Steel Suspended Platforms.
2) Logistic&Storage System products including: Wire Mesh Cage, Roll Cage and Metal Pallet.
Our company employs experienced technical and management personnel,we have imported 6 sets of OCT robot welding equipment from Japan,giving our company good technical capabilities.
Our products mainly export to Europe, Middle East, South East Asia, North America,etc.
And our annual production capability is 2000 sets with scaffolding system and 1500 tons of storage system.
Applications
---
The electric suspended platform is mainly used in the following aspects:
1.exterior maintenance and cleaning of high-rise buildings.
2.construction inspection and maintenance of big-size tanks,chimneys ,dams, bridges and derricks.
3.welding, cleaning and painting of big-size ship.
FAQ
---
1. Q: Features for Steel Platform with Plastic coating finish?
A: —-Color Plastic Spraying on platform surface with comptitive price compared with the aluminum alloy and hot dip gavalnized surface.
—-Hot dip galvanized steel platform with good Anti corrosion and Lower price than Aluminum alloy platform.
2. Q: How is your price level?
A: Factory direct sale, we have whole production line work process from platform to main parts.
—-We have max 1.2 MT die casting machine for producing metal part of hoist.
3. Q: How does your factory do regarding quality control?
A: CE certificates.One Year Quality Warranty And Life-time Technical Support.
4. Q: What payment terms do you accept?
A:T/T or L/C or West Union or Moneygram or Paypal,others is welcome.
5. Q:How you arrange shipment?
A: By Sea/By Train/By Air or By Express,15-20days Against Deposit.
Quick Details
---
Type: suspended platform
Place of Origin: Shanghai, China (Mainland)
Model Number: ZLP800/1000/630/500
Loading capacity: 800kgs;1000kgs;500kgs;630kgs;
Material: Galvanized Steel/Aluminum
Certification: CE
Warranty: 1 year
Platform Length: 2m-12m;OEM
Electric Motor Power: 1.5KW*2; 1.8KW*2; 2.2KW*2;3.0KW*2
Voltage: 380V/50HZ/THREE PHASE 220V/50HZ/SINGLE PHASE
MAX Lifting height: 200M
Color: Blue, orange, red, silver or customized
Application: Building Construction;Painting,
The model perfectly suited to lightweight applications such as painting and decorating, refurbishing, jointing and repairs, windows cleaning etc. The complete system consists of the working platform equipped with two electric LTD hoists and the support wheels, suspended by means of steel wire ropes from a suspension structure.
Application of suspended platform:
1.Decorating and constructing the external walls of high rise buildings.
2.Repairing, checking, maintenance and cleaning for the external walls of the high rise buildings.
3.Construction, repairing and maintenance for large scale projects such as large tanks,chimneys,
dams & bridges.
4.Welding, cleaning and painting for large ships.
5.Installing billboard for the high- rise buildings.
ZLP1000 suspended platform is a popular model of our products. ZLP1000 suspended work platform, also known as gondola lift for building, is a common temporary lifting equipment in construction projects. It's convenient and safe to work at heights with the gondola.
Our company has a wide range of suspended platforms, including ZLP250 single person suspended platform, ZLP500 electric cradle, ZLP630 hanging work platform, ZLP800 construction gondola, ZLP1000 suspended platform, and non-standard gondolas customization according to customers' need. We can produce gondola lift in different specifications at the same time to meet market demands.
ZLP250/ZLP630/ZLP800/ZLP1000 Suspended Platform
ZLP series Temporarily installed suspended access equipment developed and produced by Gohigher Company which is an electric climbing type decoration machine, which is mainly applied to the external wall construction, decoration, cleaning and maintenance of high-rise and multi-storey buildings. It can also be applied to elevator installation, large tanks, bridges, dams and other engineering operations.
Hoist:
With famous brand of motor, large braking torque
Inside gear technique (machining-heat treatment-fine machining-surface nitridation-fine grinding), high precision, long services life.
Lubrication oil is 220# industry gear oil.
Safety lock:
The lock cylinder uses special stainless steel, with strong impact resistance, higher toughness, wear resistant, long services life,safe and reliable.
Electric control box:
The electric components uses famous brand,CHNT,SCHNEIDER,quality is guaranteed.
Perfect circuit design,including leakage protection, current overload protection, emergency braking. Operate simply, safe and reliable.