mobile aerial platform powered suspended platform electric scaffolding platform
Product Application
---
Mobile aerial platform Powered Suspended Platform Electric Scaffolding Platform
electric construction cradle/china hoist gondola/suspended gondola boat
It is a type of suspended powered platform,suspended platform belongs to electrical-driven climbing and decorating machinery. maily powered for the high-rise building facade cleaning, painting and plastering etc. construction working. Also can be applied to operating of big vessels and bridges,dams,etc. Durable and safe, this temporary suspended platform plays an important role in the aerial construction working.
Rate load

630,800kgs

Lifting speed

9-11m/min

Material

Painted or galvanized aluminum alloy

Suspension mechanism

2 sets, 1.15-1.75 m height adjustment

Hoisting mechanism

"A" type

Safety lock

Swing arm anti-tilt, LSF30

Color

silvery white, yellow, red etc.

Steel wire rope

8.3-9.1mm  Diameter

Balance weight

Cement/Cement with steel cover/Cast iron

Voltage

220V/380V/415V

Normal working environment of hanging basket

Ambient temperature -20 °c -40 °c
Environmental relative humidity ≤ 90 ~ 25 °c)
Power supply voltage deviation rating ±5%
Gusts at work ≤ 8.3 m / s (equivalent to 5)
Brief description:
---
1. Model: ZLP800
2. Size: (2.5m+2m+1.5m)x0.69m
3. Material: Galvanized aluminum alloy
4. Certification: ISO9001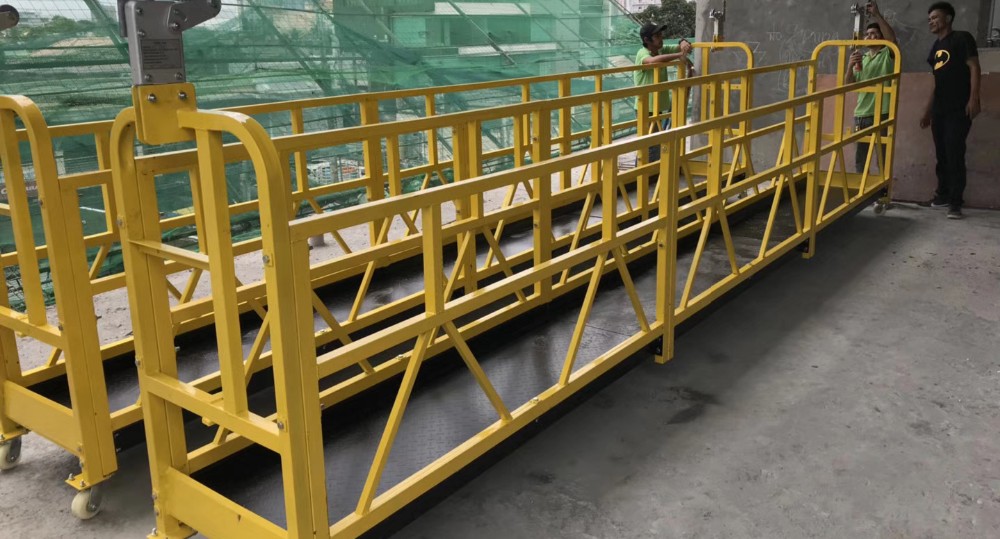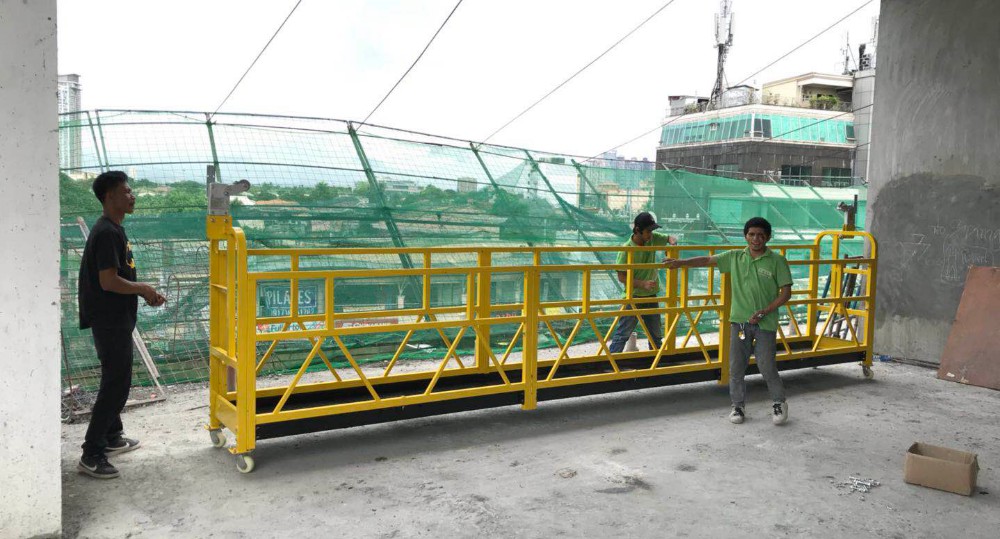 Main Features
---
1) Applying this suspended platform can release scaffold free
2)reduce the construction cost and the efficiency will be greatly increased
3) meanwhile the gondola is simple, flexible, easy to operate, safe and reliable.
Detailed
---
Suspended platform consists of suspension mechanism, suspended cradle, lifting machine, security lock, electrical control cabinet, steel rope and other components. Mainly used in high-rise buildings and multi-storey building facade construction, decoration (eg plaster slurry, paste the wall, paint brush) and glass curtain wall installation, cleaning and other engineering work, can also be used in ship building, as well as the installation of elevator depots, large tanks, tall chimneys, bridges and dam inspection, maintenance and other operations construction, simple operation, easy to shift, convenient and practical, safe and reliable.
Quick Details
---
Place of Origin: Shanghai, China (Mainland)
Model Number: ZLP800 suspended platform
Lift machanism: Lift Chain
Lift Drive/Act: Electric Motor
power: Optional
rated loading: 800kgs
Min lifting height: 0.9m
max lifting height: 200m
table size: 2.3×0.9
overall dimension:2.3×0.9×2.1m
weight: 800kgs