electric suspended scaffold platform , aluminum alloy aerial work platform
I.Suspended Platfonrm Identificatio
---
Suspended platform is a kind of aerial working equipment for loading people, by setting up suspension frame on the top of building, which is using steel wire rope along building's vertical surface,and making up and down movement depends on electrical power.
Ⅱ.Main usages of suspended platform
---
A)For exterior wall construction or decoration for tall building, or installing exterior components.
B) FOR exterior wall maintenance and cleaning.
C) For big project, for instance, construction, inspection and maintenance of big jar, chimney, dam, bridge, well frame.
D) Big vessel's sealing, cleaning and painting.
E) For installing advertisement board in high place.
Ⅲ.Suspended platform's type, material and conponents
---
1. Platform, 2. Safe Lock 3. Suspension Machnism 4. counter weight, 5. Electric control system
IIII Packing Details
---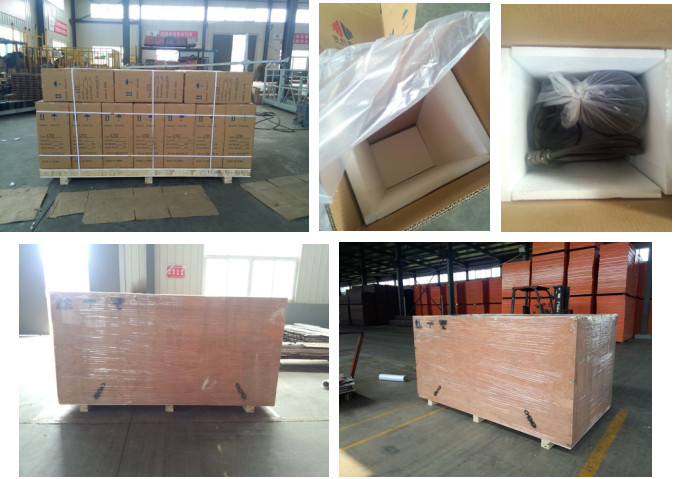 V Whole set of basket parameters specification table and weight detail:
---
Property Model No.
ZLP500
ZLP630
ZLP800
ZLP1000
Rated load(kg)
500
630
800
1000
Lifting speed(m/min)
9~11
9~11
8~10
8~10
Motor power(kw)
2×1.5 50HZ/60HZ
2×1.5 50HZ/60HZ
2×1.8 50HZ/60HZ
2×2.2

50HZ/60HZ

Brake torque(Km)
16
16
16
16
Steel rope angle adjusting range(°)
3°- 8°
3°- 8°
3°- 8°
3°- 8°
Distance between two steel rope(mm)
≤100
≤100
≤100
≤100
Rated stretch of front beam(mm)
1500
1500
1500
1500
Suspending platform
Locking
Aluminum alloy
Aluminum alloy
Aluminum alloy
Aluminum alloy
Nr.Of platform rack
Single rack
Single rack
Single rack
Single rack
Nr.Of platform
2
3
3
3
L×W×H(mm)
(2000×2)×690×1300
(2000×3)×690×1300
(2500×3)×690×1300
(2500×3)×690×1300
Weight(kg)
350 Kg
375 Kg
410 Kg
455kg
Suspending mechanism(kg)
2×175 Kg
2×175 Kg
2×175 Kg
2×175 Kg
Counterweight(kg) optional
25×30pcs
25×36pcs
25×40pcs
25×44pcs
Diameter of steel rope(mm)
8.3
8.3
8.6 / 9.1
8.6 / 9.1
Max Lifting height(m)
300
300
300
300
Motor rotation speed(r/min)
1420
1420
1420
1420
Voltage(v) 3PHASES/Single Phase
220V/380V/

415V

220V/380V/

415V

220V/380V/

415V

220V/380V/

415V
Detailed Product Description
---
Material: STEEL, ALUMINUM ALLOY
Color: Red, Yellow, Green, Silver(Can By Customerized)
Finished: Painted, Hot Galvanized, Aluminum
Motor Power: 2*1.5, 2*1.8,2*2.2
Diameter Of Steel Rope: 8.3mm, 8.6mm, 9.1mm
Max Lifting Height: 300M
Voltage: 110/220/380/415/440/480
Motor Rotation Speed: 1420