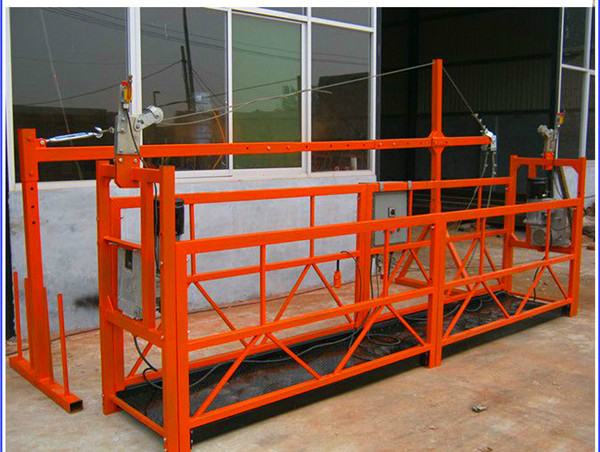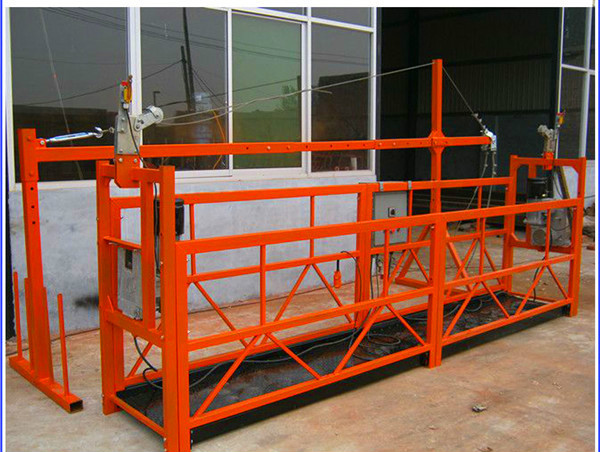 Breif introduction
---
ZLP630 Suspended Platform / Swing Stage (CE/ISO Standard) Advantages:
1) The length of platform can be adjusted.
2) Special platforms can be designed and made according to your specific requirements.
3) The platform's materials can be chosen: a. High quality steel b. Aluminum alloy
4) The working height can be adjusted.
5) The voltage and frequency can be adjusted to different countries' standard.(220V-440V / 50Hz-60Hz)
6) Simple & flexible, easy to shift & operate, safe & reliable.
7) CE, ISO9000/2008 Certification.
8) 12 months quality warranty, and good after-sales service.
9) Fast delivery and efficient service.
10) Manufacturer, factory.
Being the major product of one of the biggest manufacturers, our Cradle Work Platform is an ideal equipment for nearly all kinds of construction work, where it needs to lift people, their working tools and materials to a certain level of height. It's a fast, secure, strong, reliable, efficient and economic means of access widely used all over the world.
Parts contains:
---
1. Suspended Cage: Steel or Aluminum Alloy (powder coating or hot galvanization)
2. Suspension Mechanism: Steel (powder coating or hot galvanization)
3. Electric hoists: LTD6.3 or LTD8
4. Safety Lock: LSF30
5. Electric control box: Schneider brand
6. Steel wire rope: 8.3mm or 9.1mm
7. Power cable: 2.5 mm²
8. Counterweights: Cement or Cast Iron
9. Spare parts
Application
---
1. High-rise building: Decoration, construction for external wall, installation of curtain wall and external components, repairing, checking, maintenance and cleaning for external wall
2. Large-scale project: construction, repairing and maintenance for large tank, chimney, dams, bridges, derrick
3. Large ships: welding, cleaning and painting
4. billboard: installation billboard for high-rise building
Superiority
---
1. We had already passed the authorization by ISO9001:2008 and CE and established a complete set of quality assurance system.
2. Under such a complete set of quality assurance systems, there is a complete set of regulations for ordering, order handling, quality design, purchasing raw materials, working out production plan, production, test and inspection, packaging, storage, delivering, trace, keep in touch with clients, etc.
3. The CNC control center and PC-based production and marketing system not only improves the working efficiency but also assures the products quality.
4. Our test lines are equipped with a large amount of online test instruments, so that they can ensure and improve the products quality.
5. We also have a complete set of equipment and techniques for testing and controlling the performance of products, which ensures our ZLP630 Suspended Platform / Swing Stage (CE/ISO Standard) to take a leading position among the fellow products at home and reach the international standard.
Quick Details
---
Place of Origin:Shanghai, China (Mainland)
Model Number: ZLP500
Material: Steel, Aluminum Alloy
Color: Red, Yellow, Blue, etc
Surface Treatment: Powder coating, Hot galvanization
Length: 2m, 2.5m, 3m, 5m, 6m, 7.5m, etc
Power: 1.5kw, 1.8kw, 2kw
Rated Loading Capacity: 150kg, 250kg, 500kg, 630kg, 800kg, 1000kg
Voltage: ZLP630 Suspended Platform / Swing Stage accept different voltage
Application: High-rise building, Large tank, Chimney, Dams, Bridges, Derrick, etc
Special platform: Can be customized and supplied
Certification: ISO, CE
Parameters
---
Model

ZLP250

ZLP500

ZLP630

ZLP800A

ZLP800S

Material

Steel or Aluminum Alloy

Rated Capacity(kg)

250

500

630

800

800

Lifting Speed (m/min)

9-11

9-11

9-11

8-10

8-10

Motor Power (kw)

LTD5

LTD5

LTD6.3

LTD8

LTD8

Platform Length (m)

2.5

5

6

7.5

7.5

Counterweights (kg)

625

750

900

1000

1000

Diameter of Wire rope (mm)

8.3

8.3

8.3

8.6

8.6

Standard lifting height (m)

100

100

100

100

100