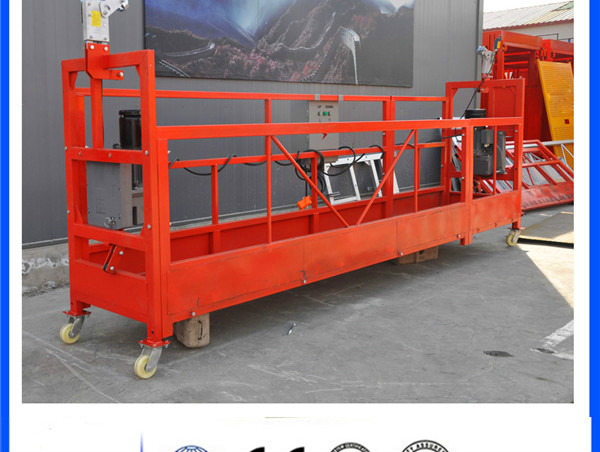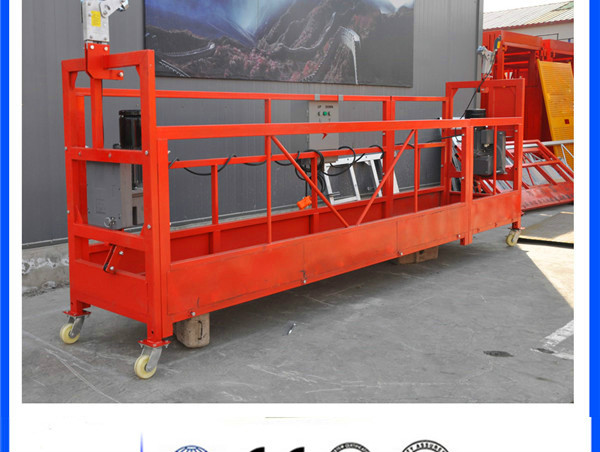 Product Description
---
A.Description of ZLP800 construction gondola hoist,gondola boat
Suspended platform is the latest products developed by RUIBIAO,with the features like more stable than elevator when start/stop,which greatly enhance the security and the service life of hoist and steel wire rope.The product has won the National hightech patent certificate.
ZLP Suspended Platform is a new decorating machinery, which can replace the traditional scaffold and is mainly used in decorating, cleaning and maintenance of external walls of high buildings, such as cement coating, wall brick coating, painting, glass installing, ship building and repairing, big vessels, bridges, dams, chimneys, etc. Using Balance suspended platform can reduce work intensity and raise work efficiency.
B.Parameter of the suspended platform
---
Name
Technical parameter of  construction platform
Model
ZLP500
ZLP630
ZLP800
ZLP1000
Rated load
500KG
630KG
800KG
1000KG
Lifting speed
8-10m/min
8-10m/min
8-10m/min
8-10m/min
Platform Dimension L×W×H(mm)
5000(2+3m)×720
6000(1+2+3m)×720
7500(2.5m*3)×720
7500(3*2.5)×720
×1300
×1300
×1300
×1300
Lifting Height
100M
100M
100M
100M
Cable
100M
100M
100M
100M
Steel rope
Dia:8.3mm
Dia:8.3mm
Dia:9.1mm
Dia:8.6mm
Hoist
Power
1.5KW*2
1.5KW*2
1.8KW*2
2.2KW*2
Voltage
380V/50HZ
380V/50HZ
380V/50HZ
380V/50HZ
Safety lock
Permission force of
30KN
30KN
30KN
30KN
impact
3°~8°
3°~8°
3°~8°
3°~8°
Suspension mechanism
Front beam overhang
1.3~.1.5m
1.3~.1.5m
1.3~.1.5m
1.3~.1.5m
Galvanized
Support adjustable height
1.44~2.14m
1.44~2.14m
1.44~2.14m
1.44~2.14m
Counterweight
800KG
1000KG
1000KG
1200KG
20'ft container load qty
10 sets
10 sets
8 sets
8 sets
Type
A-alloy platform, Hot Dipping Platform, Steel  platform
C.The main purposes of the suspended platform
---
Exterior wall construction and decoration of high-rise building, installation of panel wall and structural members of exterior wall.
Repair, maintenance and cleansing of exterior wall of high-rise building.
Construction, inspection, repair and maintenance of large project, for instance: chimney, dam, bridge and head frame.
Welding, cleansing and oil-painting of large ship.
Fabrication and installation of bulletin board on buildings at heights.
D.Drawing of the suspended platform
---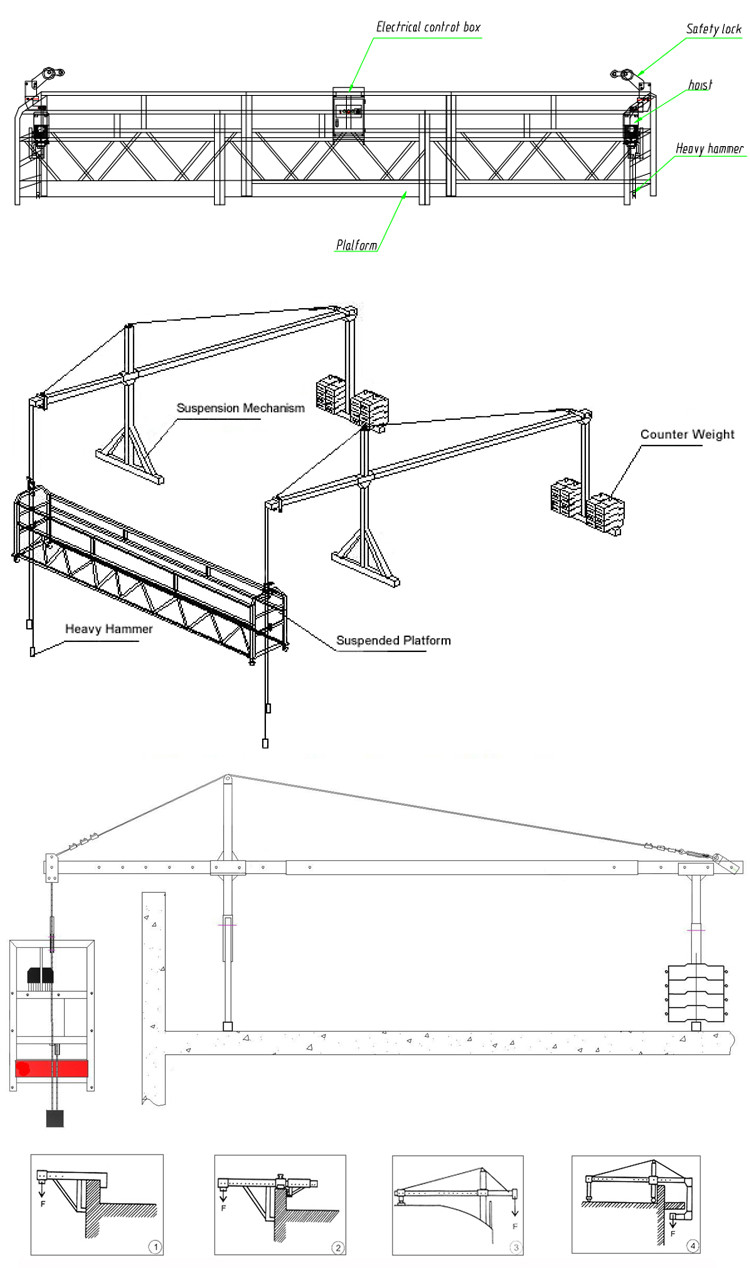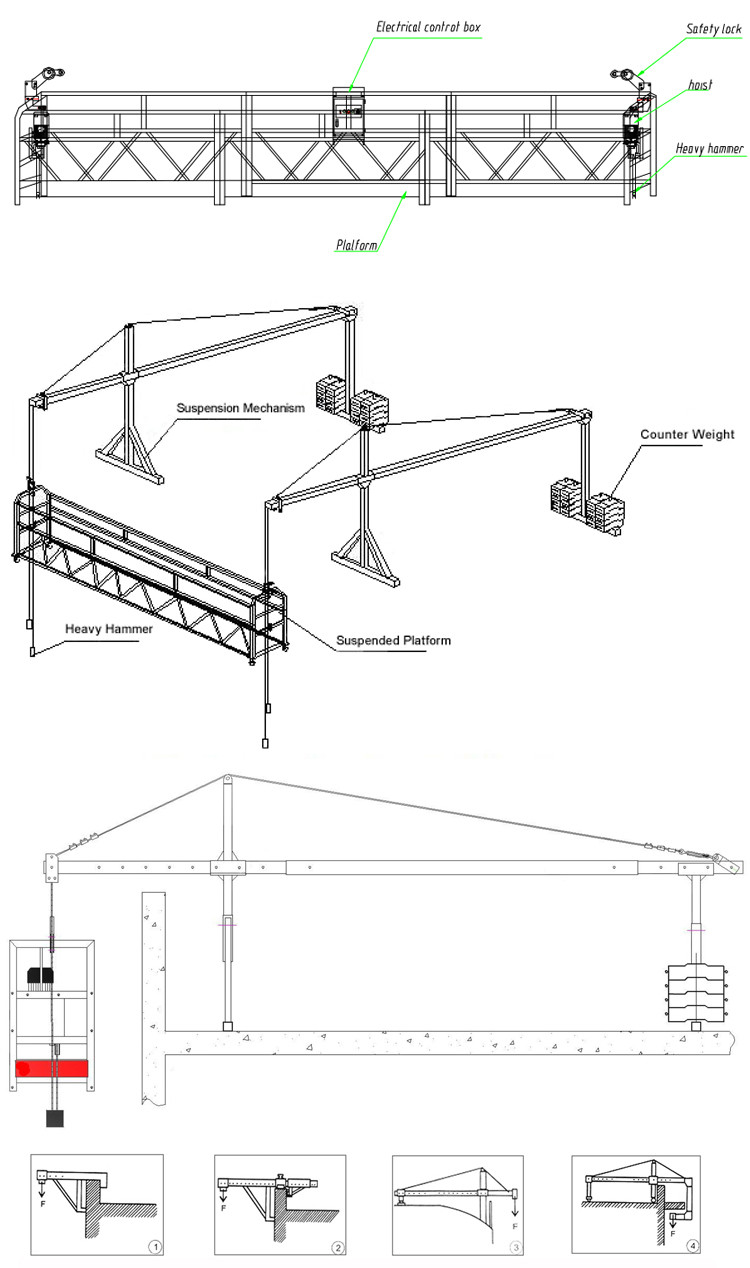 Quick Details
---
Place of Origin: Shanghai, China (Mainland)
Model Number: ZLP630/800
Material: Aluminum, Alloy,Steel with dipping Zinc,etc
Color: Silver / Red / Yellow,as your requirement
Length of platform: 1M-10M ( according to requirment)
Rated load:800kg
Rated speed: 9.0m/min
Counter weight: 1000kg
Safety lock: RB-A30
Rated Power(kw): 1.8*2
Suspended Gondola ,suspended platform: ZLP800,ZLP630