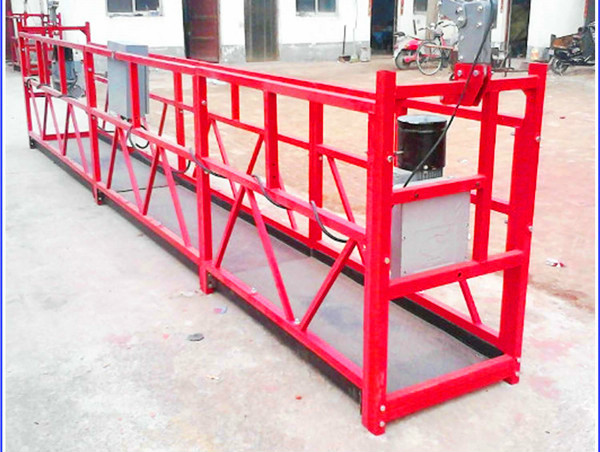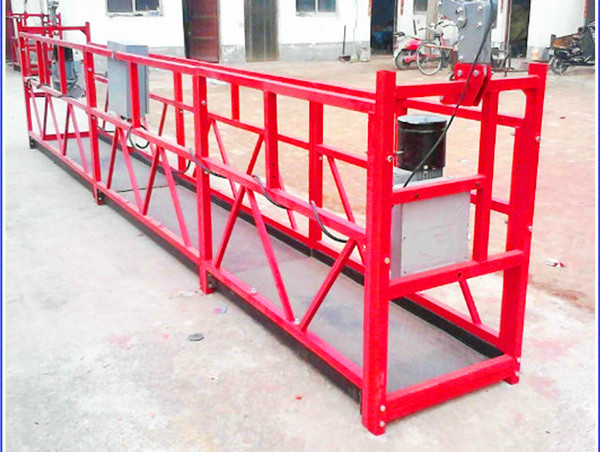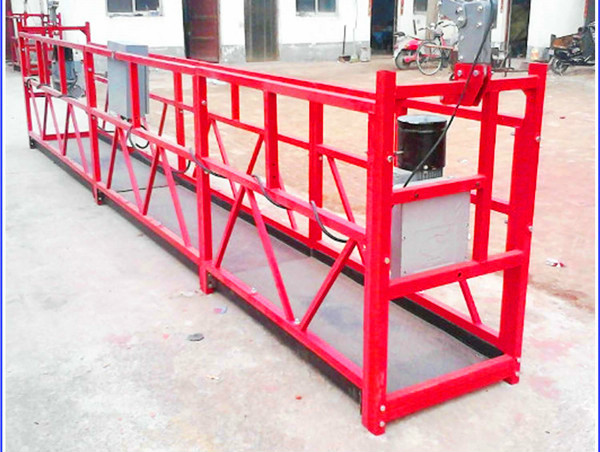 Features:
---
The suspended platform is a machine that can make the platform up and down along the building
vertical plane drived by the electromotor.
The suspended platform is used for exterior construction, decoration, cleaning and maintenance of high rise building, and is also ideal for applications such as the welding of seagoing ship in shipbuilding industry , cleaning of oil based paint, installation of elevators, big-size tanks and high chimneys,construction of reservoir dams, and inspection, cleaning and repair of bridges, and so on .
The suspended platform is a substitute of traditional scaffold, it has the characters of easy
operation,easy shifting , convenience , practicality and safety , and widely usage can greatly reduce
the labor intensity and so improve work efficiency.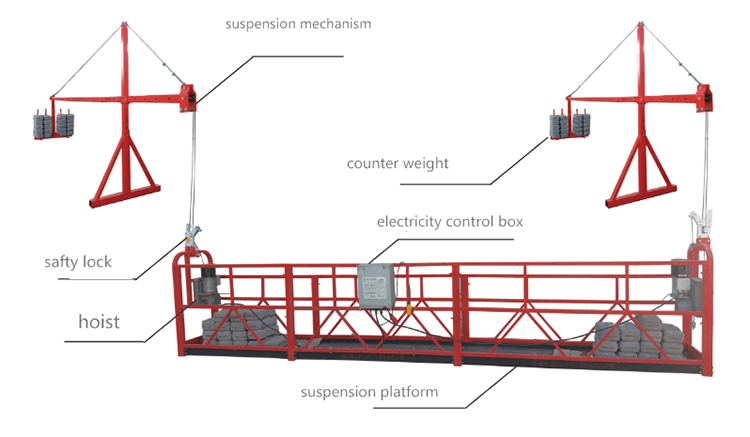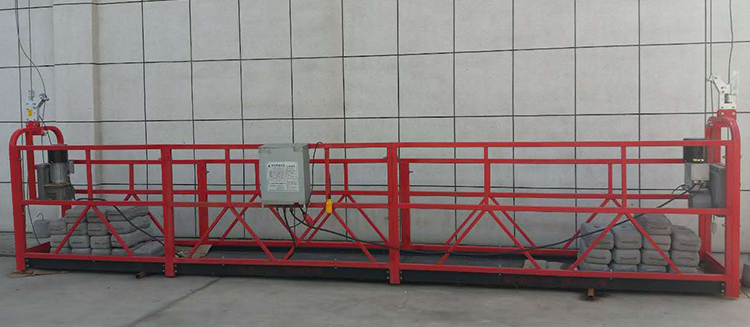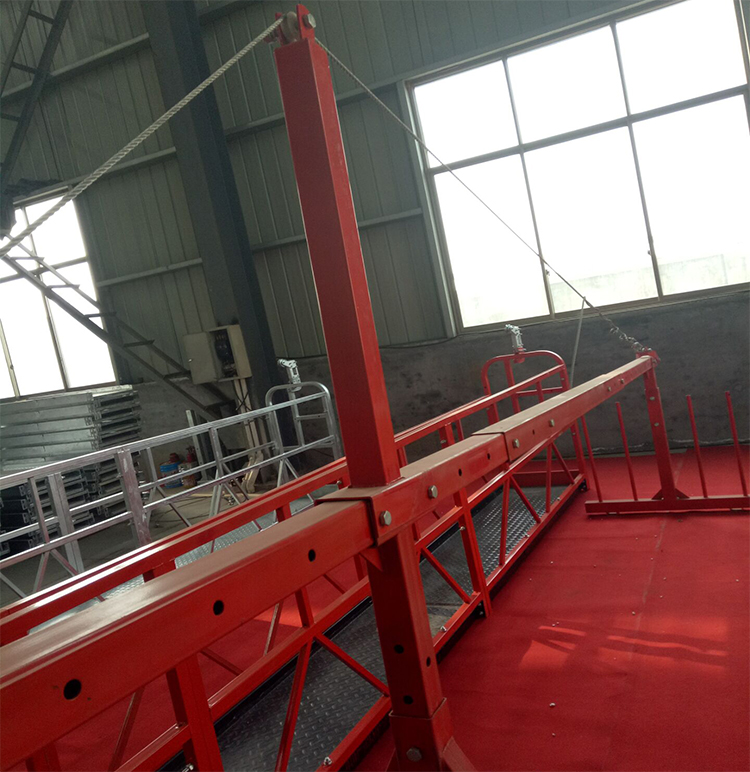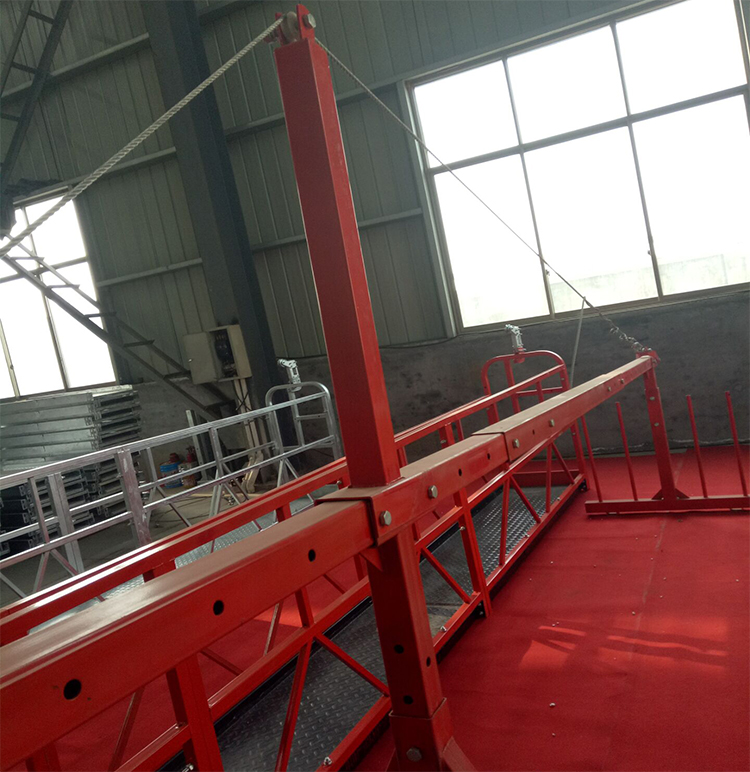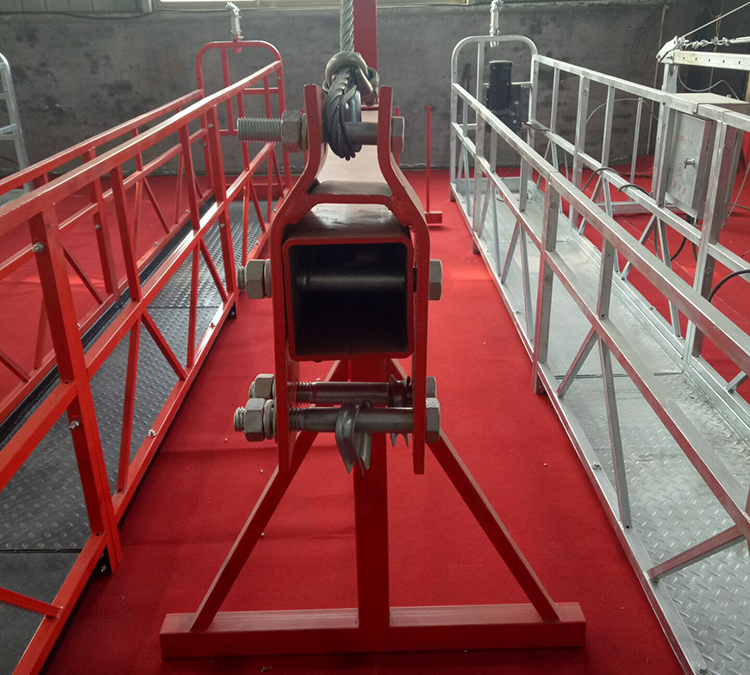 Rating Load

800kg

Lifting Speed

9-11m/min

Suspended platform measurement (L x W

(2.5mx3)×0.7m

Steel Wire Rope

4×31SW+FC-8.3

 

 

 Hoist 

 

 

 

Model

LTD80A

Rope structure type

"α"type

Rated lifting power  

8KN

 Electromotor

Model

YEJ90L-4

Power

1.8KW

Voltage

380V

Brake Torque

15.2Nm

Safety Lock

 

Type

Swing-arm anti-incline

Model

LSF30

 Suspension mechanism

 

Quantity

Two sets

Adjustable highness

1.05-1.60m

The reached length fore girder

0.7~1.7(should reduce rated load when reach 1.5m  and above)

 Quality

 

 

Suspended platform(not include lifting,achine.safety lock and electromotor

370kg(steel)

Suspension Mechanism

2×110kg

Counter-weight

1000kg

Whole machine

1900kg(steel)

Normal wokring environment 

Surrounding Temperature -20℃~+40℃

Relative humidity≤ 90% (25℃)

Rating Voltage deviation: ±5%

Flurry wind power≤8.3m/s(about 5-degree wind power)
Quick Details
---
Place of Origin: Shanghai, China (Mainland)
Model Number: ZLP800
Rating Load: 800kg
Lifting Speed: 9-11m/min
Steel Wire Rope: 4*31SW+FC-8.3
Rated lifting power: 8KN
Type: Swing-arm anti-incline
Adjustable highness: 1.05-1.60m
Suspension Mechanism: 2*110kg
Counter-weight: 1000kg
Whole machine: 1900kg(steel)
Suspended platform: 370kg(steel)