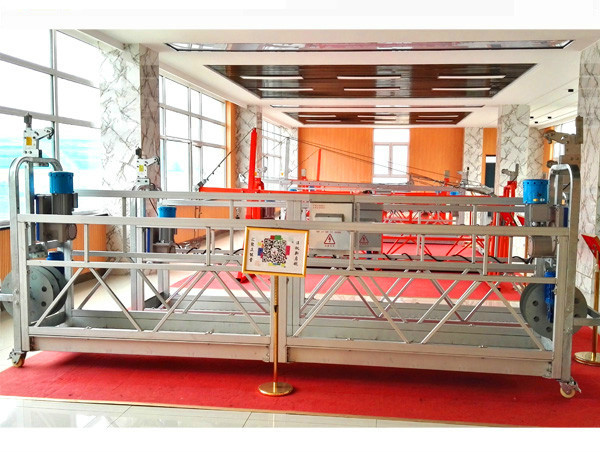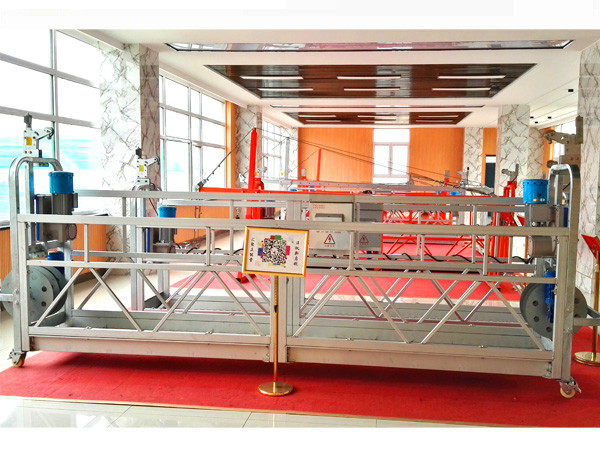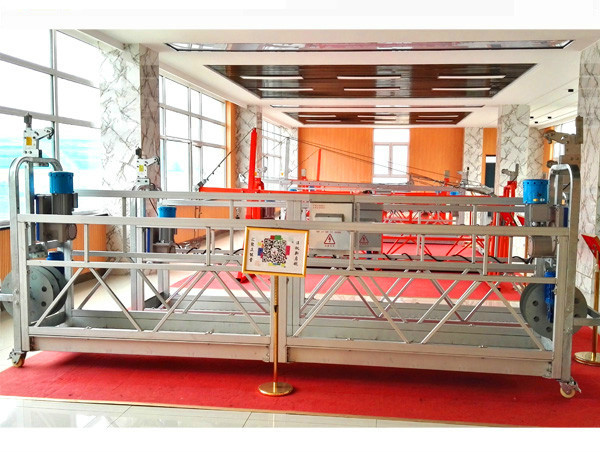 Custom Aluminum Steel personnel hoist Suspended Working Platform Hanging Scaffold Systems
Quick Details
---
Place of Origin:

Shanghai, China (Mainland)

Brand Name:
success
Model Number:

ZLPSeries

Lift Mechanism:

Rack & Pinion

Lift Drive / Actuation:

Electric Motor

Power:

1.8kw

Rated Loading Capacity:

100-800kg

Min. Lifting Height:

0m

Max. Lifting Height:

200m

Table Size:

7.5m

Weight:

900kg without counter weight

Certification:

CE ISO9001 UL

Warranty:

1year

After-sales Service Provided:

No overseas service provided

material:

steel or aluminum

surface proceeding:

spraying or hot galvanized

electronic control system:

Schneider Electronic components

hoist type:

LTD80

wire rope diameter:

8.3mm

rated lifting speed:

9-11m/min
Specifications
---
1. Adjustable working height
2. Length of platform can be adjusted
3. easy to assemble, operate & maintain
4. widely applicable
5. ZLP series suspended platform is the most popular equipment ,it is acknowledged as a climbing and decorating machinery. It replace the traditional scaffold and widely used for maintaing & cleaning multi story buildings, exterior wall construction, painting, installing the glass curtain walls and other similar applications.
The product adopt advanced technology and experience, in applicane with the norms and standards already laid by the industry. Before the final delivery, the suspended platforms are stringently checked by our experts.
Safety Device
---
1.Safety lock and safety steel rope: Each end of platform install one safety lock and safety wire rope. In case the platform tilted to a certain range, the safe wire rope would be locked immediately to stop platform falling.
2.Safety rope : Safety rope is indispensable life protection connected with workers. It is made from high strength filament with 18mm/20mm diameter. When the platform decline due to a fault, the safety rope would get tightened to prevent people falling.
3.Limit switch and limit switch: prevent platform moving upwards or downwards beyond the limit.
4.Hoist brake electromagnetic brake:keep the platform suspended in case of circuit failure or power failure.
5.Centrifugal speed limiting device: ensure the platform descend or ascend at a speed no higher than 1.5 times of the rated lifting speed, keeping the platform moving more stable.
6.Manual hoist downhill device:in case of power failure or electrical failure, operate the manual to make platform descend and keep workers' safe landing.
7.Electrical emergency stop: press the emergency button to stop the platform in case of danger.
8.Electric control box is designed with multiple protection such as over-heat protection, current overload protection and leakage protection to prevent any dangers that may happen during operation.
Application:
---
powered suspend platform with the best features and can be used for:
Decorating and constructing the external walls of highrise buildings
Repairing, checking, maintenance and cleaning for the external walls of the highrise buildings.
Construction, repairing and maintenance for large scale projects such as large tanks, chimneys, dams & bridges.
Welding, cleaning and painting for large ships.
Installing billboard for the high- rise buildings
Our Services
---
1- One year warranty for whole machines.
2- Providing free quick-wear part.
3- Low charge for continue maintenance when warranty is expired.
4- Exclusive engineer support at any time.
5- free training to end-users.
6- 24 hours online service and support
Advantages
---
1, success uses the the rolled steel from national large iron and steel company wholly.
2, all of the rolled steel,welding material and key materials are tested before transporting to the workshop
3, our company has a strong and professional team in charge of new product research and update.
4, our products are made according to the drawing strictly, using 16Mn, 40Cr and 45# steel.
5, the front point of the crane arm is equipped with anti-warping device additionally.
6, the structure of tower adopts intensive form , excellent rigidity, without deformation.
7, the slewing tower body and standard section are processed by the double milling surface.
Good level of junction surface. Excellent stability, little wear of the slewing bearing. Long using life.
8, the safety equipment adopts the products from the first-rate manufacturer.
9, we adopt the submerged arc welding and carbon dioxide arc welding wholly. We use Imported welding
manipulator in the important parts, with advanced technology and high strength of connection
Detailed Product Description
---
Key Word: Personnel Hoist
Quality: Superior
Port Of Delivery: Shanghai
Warranty: 12 Months
Feature: Durable Trouble-free Operation Corrosion Resistance Reliable In Safety