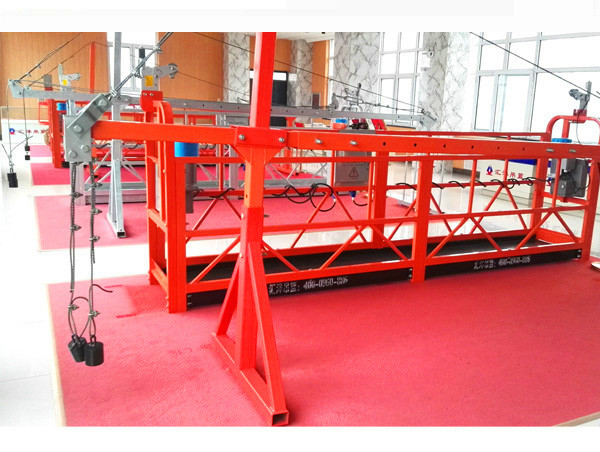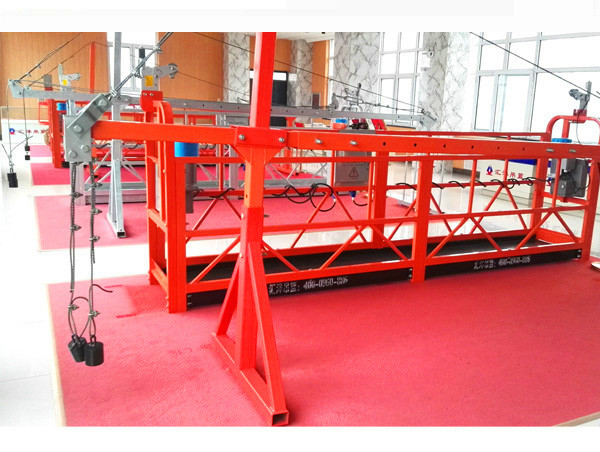 ZLP630 Suspended Working Platform 630kg Suspension Platform Cradle
Advantages of ZLP Suspended Working Platform
---
1. Climing Principle- The suspended platform climbs up along the wire rope driven by the hoist. Without wraping up the wire rope, there is no limit on the height of climing in theory.
2. Hoist- Using the "α"structure, the reliability of the hoist is high, and the service life is long.
3. Safety rope and safety lock- Two safety ropes are set independently. The suspended platform is set with safety locks. When the platform goes acclivitous, the hoist system gets major faults or ropes are broken off and falling, the safety locks will lock the wire ropes to ensure the safety of the operator and the machine.
4. Combination of the basket- According to customers' requirements, the paltform can be combined in different forms and easy to transport.
Main usage of ZLP Suspended Working Platform
---
a. Cleaning work platform
b. Painting and decoration work platform
c. Repair and maintenance work platform
d. Widely applied to various works of building walls, glasses, external walls, large chimney, large tanks, dams etc.
Parts for ZLP Suspended Working Platform
---
1. Platform(basket): Steel or Aluminum Alloy (painted or hot galvanized)
2. Suspension Mechanism: Steel (painted or hot galvanized)
3. Electric hoists:LTD6.3 or LTD8
4. Safety Lock: LST30
5. Electric control box: Along with hoists
6. Steel wire rope: 8.3mm ,8.6mm or 9.1mm
7. Safety rope: 18mm,20mm
8. Electric cable: 3*2.5+2*1.5
9. Counterweights: Cement , cement with steel cover & Iron counterweight
10. Spare parts
Specification for ZLP630 Suspended Working Platform
Hoister
Type: LTD63
Quantity: 2 sets
Suspended platform
Length: 6m (1.5m*0.69m+2m*0.69m+2.5m*0.69m)
Material: square tube Q235A
Working wire rope
Type: 4*31SW+NF-8.3
Quantity:100m* 2 pieces
Safety wire rope
Type: 4*31SW+NF-8.3
Quantity:100m* 2 pieces
Safety lock
2 sets
Travel limiter
2 sets
Heavy hammer
10kg*2 pieces
Electric box
1 set
Specify cable for suspended platform
Type: 3*1.5
Quantity: 95m*1 piece
Suspended mechanism
Material: Square tube 160MN
Quantity: 2 sets
Detailed Product Description
---
Load Capacity: 630kg
Standard Height: 100m
Platform Length: 6m
Wire Rope: 4*31SW+NF-8.3
Power Supply: 380V/50HZ Or According To Clients Need
Safety Wire Rope: 4*31SW+NF-8.3
Specify Cable For Suspended Platform: 3*1.5