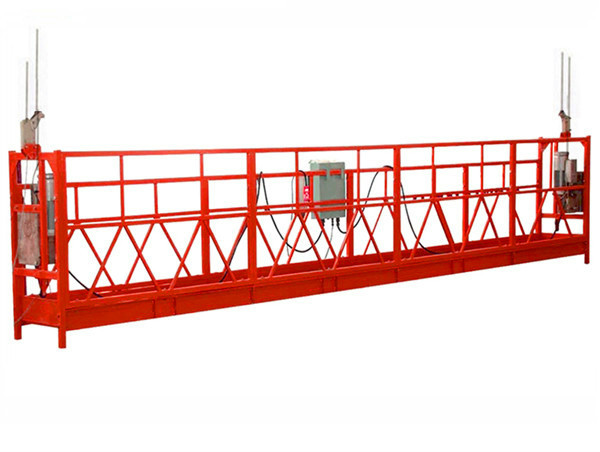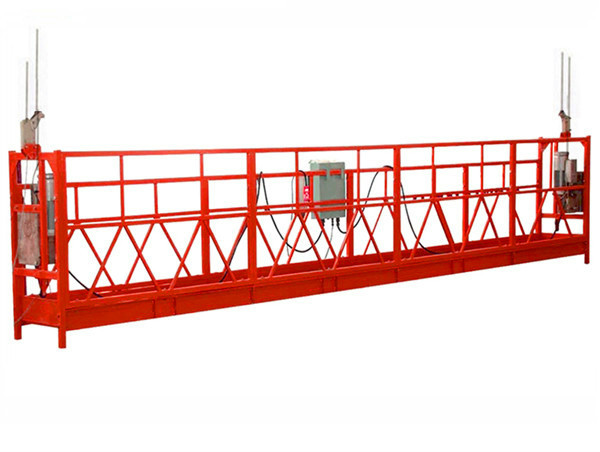 Main parts for ZLP630 suspended platform
---
1. Working platform, suspension mechanism
With hot galvanized steel,the suspension mechanism uses 80*80,70*70 square tube, thickness is 3.75mm, front and rear girder is 2.35mm thickness, middle girder is 2.48mm, thickness of working platform is 2.2mm.
2. Hoist
With famous brand of motor, large braking torque, unique anti-rope clamping device, when the rope is clamped,the alarming rings,the motor stops working, so that factor of safety is increased meantime, maintenance cost of hoist is reduced. Lubrication oil is 220# industry gear oil.
3. Safety lock
The lock cylinder uses special stainless steel, with strong impact resistance, higher toughness, wear resistant, long services life,safe and reliable.
4. Electric system
The electric components uses CHNT,SCHNEIDER brand, reliable quality,easy to maintain.
5. Counter weight
This is one optional part, if you need, please tell us in advance! If you don't need, we will send one model for one set to you.
6. Wire rope
4*31sw high quality wire rope
Specification for ZLP630 Suspended Working Platform
Hoister
Type: LTD63
Quantity: 2 sets
Suspended platform
Length: 6m (1.5m*0.69m+2m*0.69m+2.5m*0.69m)
Material: square tube Q235A
Working wire rope
Type: 4*31SW+NF-8.3
Quantity:100m* 2 pieces
Safety wire rope
Type: 4*31SW+NF-8.3
Quantity:100m* 2 pieces
Heavy hammer
10kg*2 pieces
Electric box
1 set
Specify cable for suspended platform
Type: 3*1.5
Quantity: 95m*1 piece
Suspended mechanism
Material: Square tube 160MN
Quantity: 2 sets
Advantages of our company
---
1.Management objective
Quality roots in responsibility, honesty creates value.
Strives for perfection, the good faith for this, the customer is supreme, for customer creation value.
We insist, pragmatic, pioneering and the principle of good faith.
2.Sourcing Solutions
Detail matters!It is our policy to ensure we understand your product or range requirements 100% before selecting the right manufacture for you.
3.Quality Control
We arranged professional person to test each one machine before sending goods to foreign countries.
we are not send unqualified equipment to abroad.
4.After-sales
We put a lot of hard work into making sure we supply you with the products you want, so why wouldn't we want to hear about your success with them? We also know that sometimes, issues do arise. Your feedback is vital for us to continue to improve.
One year warranty will be offered, we will provide with some accessories that is broken within one year after the factory inspection date (see factory inspection sheet).Accessories will be sent by common mail or sea freight.
5.Documents:
We offer the following documents for customs clearance, if you require extra documents please inform us in advance.
1) 3 Original B/L
2) 3 Original Commercial Invoice
3) 3 Original Packing List
4) 1 Original Insurance Certificate (for CIF term)
5) 1 Original certificate (if necessary)
6) Other documents according to customers' inquiry.
Detailed Product Description
---
Load Capacity: 0.63ton
Height: 100m
Platform Length: 6m
Wire Rope: 4*31SW+NF-8.3
Power Supply: 380V/50HZ Or According Toyour Inquiry
Specify Cable For Suspended Platform: 3*1.5